Land of Midnight Golf
By Leonard Finkel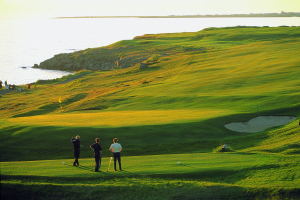 There is a place where you can start your round one-day and finish the next without a break. Playing golf after midnight is more than possible. Some tee times don't begin until after midnight! That place is Iceland, where during a few weeks in the summer, twenty-four hour daylight allows for twenty-four hour golf. To be honest, there could be a dark cloud hovering over you. On cloudless nights, the sun is bright. On cloudy nights, it grows much dimmer, but there are few other places on earth that afford this opportunity.
Misperceptions about life on this volcanic island are abundant. It is assumed this country is cold and miserable. Greenland is icy… Iceland is green. In fact, during the winter months, the average temperature in Reykjavik is higher than that of New York City during the same time. Thanks to the eternal daylight, June and July are the most benevolent months.
Nordic Golf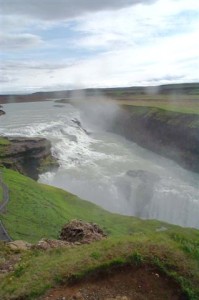 Golf brought me to Iceland, specifically the Amstel Light Open. Iceland boasts 56 golf courses, eleven of which are 18-hole courses. The others range from just a few holes to nine-hole or more facilities.  Golf is a passion here and even if an area cannot support a full-fledged course, they still want their golf. Golfers walk in Iceland, because there are very few power carts.
Golf in Iceland is links style, at the mercy of Mother Nature, including ocean salt, hail, rain, snow and often-powerful winds. Playing on these links courses presents challenges of cold winds off the Arctic waters, as well as the pesky rain we faced the first tournament day. Conditions were beautiful though, the second day.  Icelandic golf takes on a challenge sometimes worthy of a Viking and Icelandic golfers pride themselves on foul weather challenges. Of the two courses played for the Amstel Light Iceland Open, by far the best was Keilir Golf Course, originally opened in 1966 as a six-hole course. It expanded to nine holes, later to twelve, then finally hitting the full 18-hole circuit in 1985. In addition to the championship track, the facility also maintains a nine-hole practice course.
The weather being what it is, it is difficult to maintain playing conditions to American standards in Iceland, but Keilir does a wonderful job. The major difference was the speed of the greens, which were slower than we are used to. The landscape consists of two distinctly different 9-hole layouts. The front nine meanders through rugged lava beds, which beautifully frame every hole. Deep green fairways are positioned inside rock walls flanking both sides, each hole a setting unto itself. The back nine plays along the ocean, reminiscent of links courses in Ireland or Scotland. The terrain is natural, the fairways undulating. Severe slopes on the greens present further challenges.
Scenic Beauty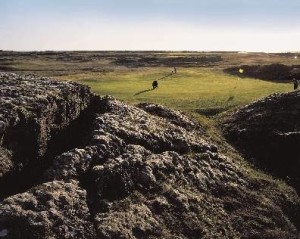 Iceland's popularity is certainly attributable to its breathtaking natural wonders, including glaciers, steaming geysers, geothermal hot spots, magnificent waterfalls and the fact that most of the countryside is uninhabitable, away from the encroachment of civilization. Words simply can't do justice to the natural beauty of Iceland. One of the most impressive natural wonders in Iceland is the Gulfoss Waterfalls. The chasm created by the "Waterfall of the Gods" is awe-inspiring. A trail running along the river leading to the multi-tiered falls allows for numerous viewing angles. While in Iceland, be sure to experience glacier snowmobiling, a riveting experience. During our excursion, a few bright souls thought to bring clubs. I imagine the ball gets a little extra roll on the slick glacier surface.
Steam and hot waters of the Blue Lagoon come from pure organic water deep below the surface lava. Silica mud, mineral salts and algae are part and parcel of the mineral rich seawater dip. A geothermal field that supplies hot water and steam that runs a nearby power plant generates hot water at the Lagoon. The therapeutic and revitalizing benefits of the Lagoon draw an ever-increasing number of visitors every year, making this Iceland's most popular tourist attraction. This one-of-a-kind natural spa/sauna, with its warming waters also offers massages and treatments including a Blue Lagoon white skincare mask. The Blue Lagoon is located about 15 minutes from Keflavik International Airport.
NORDICA HOTEL
The Nordica Hotel sits in the heart of Reykjavik. This 4-star hotel recently reopened after a $20 million infusion transformed it into arguably the biggest and best in Iceland. It features a 650-person conference center, an exclusive Executive Lounge and Presidential Suite. The 284-room hotel provides a fine dining restaurant, complete spa and treatment center and a health fitness facility. Specially priced packages are offered, but are not usually available during the June-July period.
Though the rooms are quite small, amenities at the Nordica Hotel include high-speed Internet access, a fully stocked mini bar, in-room safe, lush bathrobes, thick down comforters and satellite TV. The Nordica Spa features 10 massage and treatment rooms, three Jacuzzis, two steam rooms and a traditional outdoor log cabin sauna. Nordica also boasts the Vox Restaurant, which every morning hosts a traditional Icelandic buffet breakfast.
NIGHTLIFE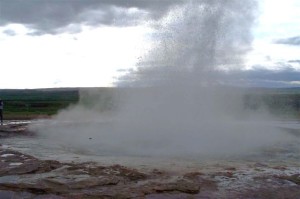 Much more than an amateur golf outing, the Amstel Light Iceland Open offers everything a person could want in a dream vacation – fun, relaxation, sport and adventure.  Nightlife in Reykjavik is a popular sport. Here, dinner can start at 10 or 11 pm. and pub-crawling begins after midnight and finishes when most pubs, cafes and discos close at five or six in the morning. June and July turns out to be a two-month celebration of the Summer Solstice and many contestants in the Amstel Light Open enjoyed joining in the ritual of barhopping, which has become a trend among travelers. The panoramic view from the Pearl Restaurant is a must. The food is fantastic and the dining room rotates 360-degrees, enabling one to see the entire city of Reykjavik.
Beware of sticker shock. A bottle of beer can cost $10, a small room at the Nordica Hotel will set you back $300 a night, and a candy bar can cost $3.50, but there are ways to curtail high prices.  An ideal first-trip to Iceland would be as a stopover to or from Europe. Icelandair provides a three-day or longer optional stopover at no extra charge. Iceland is a five-hour flight from New York or a half hour longer from Minneapolis. There are also very inexpensive winter packages. Hundreds of options between top quality-rated hotels, bed & breakfast inns, as well as apartments rented on a short-term basis are available. The Internet carries updated information and pictures of these lodgings.
As in Scotland, the weather can change abruptly from serene to overcast to rain in a matter of minutes. Offshore Arctic winds seem perpetual as you walk along the holes of unprotected oceanfront links courses. Winds can carry a cold and rather knife-like chill if dressed improperly. Icelandic inhabitants dress in layered clothing to adapt to these ever-changing conditions, and that's the sage advice to all golfers in Iceland.
I was well prepared with an array of outerwear from Zero Restriction to cope with rain, wind and the cold. Zero Restriction (1-800-367-0669 / www.zerorestriction.com) is the most used rain gear on the PGA Tour, and for good reason. Armed with a Traveler rain suit, rain vests, rain gloves and most importantly a Wind Stopper jacket, I was able to easily and comfortably handle everything Mother Nature threw at me.