Kiwi Golf Heaven
By Leonard Finkel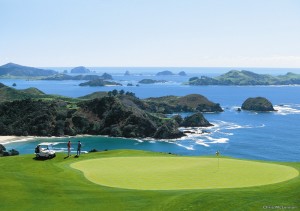 We had traveled halfway around the world to play Kauri Cliffs, New Zealand's most ballyhooed golf course, and we were dead set on playing 36 holes. "You better plan for a 5 ½ hour round", replied the assistant pro behind the counter. He didn't seem to understand. We were golf writers, single digit handicappers on a mission. And there was no one else in sight. But that didn't seem to sway him. "Trust me", he smiled. Once you get out there, you'll understand.
He was right. All it took was one look at the rolling hills, seaside cliffs and sweeping islands shimmering in the pristine ocean below to understand New Zealand is truly unlike anywhere else in the world. And that was just the setting from the world most spectacularly scenic driving range, perched high above the rolling landscape and ocean cliff views.
But it isn't just the spectacular scenery that makes Kauri Cliffs (www.kauricliffs.com) special. Relatively unknown architect David Harman created a masterpiece that matches the surroundings of the dramatic Bay of Islands region in New Zealand's far north, taking full advantage of the dramatic elevation changes, sweeping hillsides and surrounding streams and other natural features to create an exceptional golf experience for players of all abilities. And after staring in awe and taking pictures on virtually every hole, we understood why the four year old course in the northern reaches of this remote country debuted at Number 49 in Golf Digest's world rankings.
From Kauri Cliffs to The Lord of the Rings, New Zealand has been getting a lot of attention lately, and for good reason. An easy 12 hour flight from San Francisco or Los Angeles on Air New Zealand (www.airnz.com), this Pacific country is an unsullied vacation hot spot. It boasts some of the best golf in the world, along with spectacular scenery popularized by the movie, exceptional cuisine, a burgeoning wine industry, unique "boutique" lodging and plenty of activities from boating (New Zealand hosted the 2003 America's Cup and Auckland is known as the city of sails, with more boats per capita than anywhere else in the world) to bungee jumping (New Zealand is the birthplace).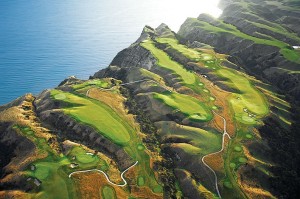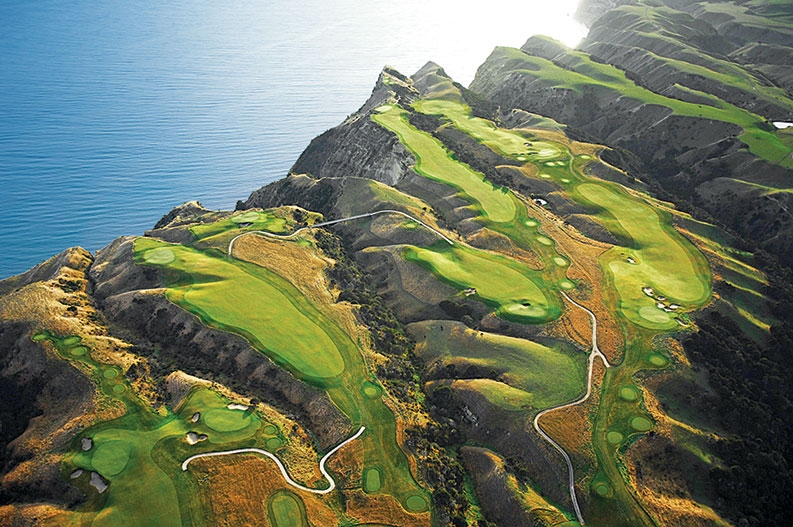 New Zealand's west coast features seaside cliffs reminiscent of Scotland, Ireland and the Monterrey California coastline, home to Cypress Point and Pebble Beach. Architect Tom Doak's work is nothing short of perfection. Cape Kidnappers (www.capekidnappers.com) is as dramatic as its name, a former 5,000 acre sheep ranch perched precariously several hundred feet high, on the fingers of land surrounded by jagged cliffs and crevasses above the Pacific. On one of the most dramatic piece of land on earth, the mastermind behind Pacific Dunes has crafted a new classic that feels as if it evolved naturally over hundreds of years. Cape Kidnappers flows out along outstretched cliffs, moving teasingly farther into ocean 500 feet below sheer rock walls. It builds to a crescendo at the par-5 fifteenth hole, with a green set out precipitously on fingers stretched out from the mainland. The tee box on the 16th extends out to a ledge where one false step (or slice) separates you from the end of the earth.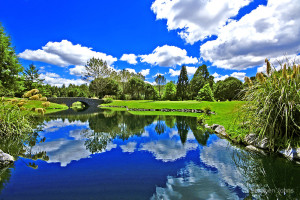 New Zealand is home to less than 4 million people and ten times as many sheep, but a passion for golf, with more courses per capita than anywhere else in the world. The golf course quality ranges from farm pasture land to five-star resorts, and everything in between. The best among the other courses is Waireki International (www.wairekegolfcourse.co.nz), a brilliant and beautiful parkland layout carved through high mountain forests reminiscent of the Canadian Rockies. Just up the road from the geothermal and fly-fishing mountain Mecca Lake Taupo, Waireki's classic layout was voted among the world's best and rivals the best from Donald Ross, Alistair McKenzie or other old time masters. Best of all, it'll cost you about seventy five dollars for a round.
The Resort Lifestyle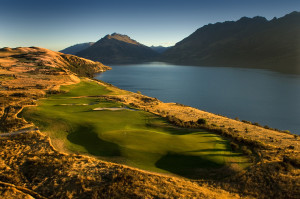 Golf resorts are a relatively new concept in New Zealand, but the Kiwis clearly know what they're doing. The pioneer is Millbrook Resort (www.millbrook.co.nz), a magnificent 4-star golf and spa resort built around a turn of the century flour mill near Queenstown. Designed by British Open winner and New Zealand native Bob Charles, Millbrook's golf course is a rollicking test of resort golf with a number of memorable and imaginative holes and water features set amidst the splendor of a high mountain amphitheater.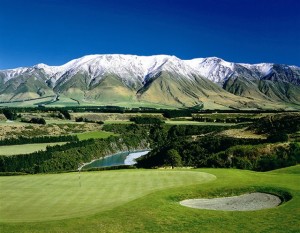 Other exceptional resorts whose offerings and service rival any worldwide include Terrace Downs (www.terracedowns.co.nz), a high mountain golf and ski development at the base of the Southern Alps outside Christchurch, the charming Victorian city considered more English than England; and the ultra-contemporary Clearwater Resort (www.clearwater.net.nz) with its private harbor along the water in Christchurch. I usually don't talk about bathrooms, but the bath at Clearwater was exceptional. A décor of high-end fixtures, marble and glass was highlighted by a Jacuzzi/shower combination suite, overlooking a beautiful lake. Remote controlled blinds from the Jacuzzi were the crowning touch. When playing Cape Kidnappers, a wonderful place to say is the Mangapapa Lodge (www.mangapapa.co.nz). Each suite is unique and the restaurant's cuisine is delectable.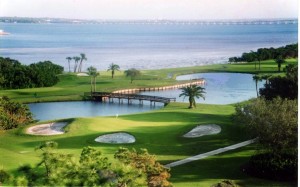 Unlike some golf destinations, New Zealand offers dozens of other activities and experiences including skiing and ocean sailing. You can even golf and ski in the same day! Sailing on an America's Cup contender like the Pride of Auckland just off the soaring downtown skyline, skimming the river's edge in a high-speed jet boat with the Rakaia Gorge Scenic Jet and captain Murray McDonald, and winery tours in Hawke's Bay were just some of the many diversions that happily kept us off the course. It's the perfect place to bring that non-playing spouse or friend who always complains about getting left behind.
Things to Know
Kiwis are committed to keeping their country pristine, and that includes keeping our grasses, diseases and bugs out. Your golf shoes must be completely clean and free of grass and dirt, or they will be soaked in a particularly nasty solution that doesn't do much for their shine, durability or waterproofing.
One mistake made by many first-time New Zealand travelers including yours truly, is underestimating its size. The country is too big to see in its entirety on one journey, unless you have a few weeks to spend there. "It's comparable to the U.S. West Coast", said Jillian Barrow with Down Under Answers (www.duatravel.com), a Bellevue, Washington based South Pacific travel specialist, "it's best to limit your itinerary to several regions." Barrow recommends Hawke's Bay, Queenstown, Northland, Christchurch and Auckland. And given the importance of your vacation, Barrow says a New Zealand travel specialist can build the perfect vacation, maximizing your money and optimizing your time.
With its location south of the equator, the seasons in New Zealand are exactly opposite ours. Although mild year round you'll get the best weather and longest days from December through April. But given all that New Zealand has to offer, any time is a great time to discover the world's next great golf destination.